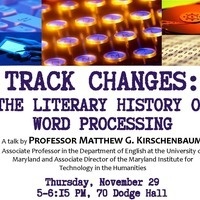 Track Changes: The Literary History of Word Processing
A talk by PROFESSOR MATTHEW G. KIRSCHENBAUM, Associate Professor in the Department of English at the University of Maryland and Associate Director of the Maryland Institute for Technology in the Humanities.
Matthew G. Kirschenbaum is the author of the highly‐acclaimed Mechanisms: New Media and the Forensic Imagination, published by the MIT Press in 2008 and winner of the 2009 Richard J. Finneran Award from the Society for Textual Scholarship (STS), the 2009 George A. and Jean S. DeLong Prize from the Society for the History of Authorship, Reading, and Publishing (SHARP), and the 16th annual Prize for a First Book from the Modern Language Association (MLA). In 2010 he co‐authored (with Richard Ovenden and Gabriela Redwine) Digital Forensics and Born‐Digital Content in Cultural Heritage Collections, a report published by the Council on Library and Information Resources. Kirschenbaum speaks and writes often on topics in the digital humanities and new media; his work has received coverage in the Atlantic, New York
Times, National Public Radio, Wired, Boing Boing, Slashdot, and the Chronicle of Higher Education.
This public talk is part of the university's initiative to enhance the Digital Humanities and Computational Social Sciences. For further information, contact Professor Elizabeth Maddock Dillon (e.dillon@neu.edu) or Professor David Lazer (d.lazer@neu.edu).
Thursday, November 29, 2012 at 5:00pm to 6:15pm
Dodge Hall , 70