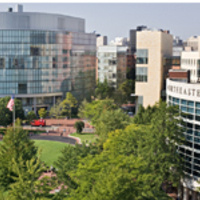 Drug Discovery and Development in the 21st Century
Presented by the Department of Pharmaceutical Sciences and the Department of Chemistry and Chemical Biology at Northeastern University.
REGISTRATION IS CLOSED
CLICK HERE FOR PROGRAM INFORMATION: goo.gl/WJzNH
Tremendous advances are being made in our understanding of debilitating diseases such as cancer, rheumatoid arthritis, and Alzheimer's. However, despite these advances, many challenges remain in contemporary drug discovery and development.
In this symposium, thought leaders from academia and industry will discuss their research and share their vision of how the biomedical sciences will evolve in the coming decade.
Cutting-edge research from a wide variety of fields will be covered, including: target identification and validation; advances in structural biology, toxicology, and medicinal chemistry; formulation and drug delivery strategies; cellular and regenerative medicine; and personalized medicine.
KEYNOTE SPEAKERS:
Leroy Hood, MD, PhD
President and Co-founder, Institute for Systems Biology, Seattle
Alan Russell, PhD
Highmark Distinguished Career Professor, Institute of Complex Engineering Systems and Biomedical Engineering, Carnegie Mellon University
George Whitesides, Ph.D.
Woodford L. and Ann A. Flowers University Professor
Department of Chemistry & Chemical Biology, Harvard University
SPEAKERS:
Eric Olson
Vice President and Cystic Fibrosis Program Leader, Vertex Pharmaceuticals
Nitin Baliga
Institute for Systems Biology
Jay Bradner
Dana-Farber Cancer Institute, Harvard Medical School
Joshua Kritzer
Department of Chemistry, Tufts University
Arun Ghosh
Department of Chemistry, Purdue University
Mano Manoharan
Senior Vice President, Drug Discovery, Alnylam Pharmaceuticals
Trish Hurter
Senior Vice President, Pharmaceutical Development, Vertex Pharmaceuticals
Page Bouchard
Global Head, Preclinical Safety, Novartis Institutes for Biological Research
REGISTRATION IS CLOSED
CLICK HERE FOR PROGRAM INFORMATION: goo.gl/WJzNH
**Registration & continental breakfast at 7:30 a.m.**
**Scientific program begins at 8:00 a.m.**
Tuesday, November 6, 2012 at 8:00am
Curry Student Center, Ballroom
346 Huntington Avenue, Boston, MA, Boston
Event Type

Departments

Tags
Cost

There is no fee to attend this conference.

Hashtag

Subscribe